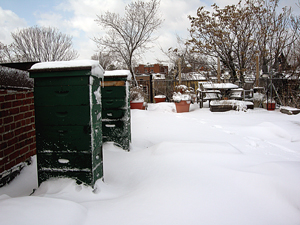 If October marks the end of one yearly cycle of beekeeping in this city, late February and the beginning of March are when we anxiously watch our hives to see if life will return after the trials and tribulations of winter.
Last week, temperatures hit 70 degrees F (21 degrees Celsius). Today at noon it is 23 degrees F (-5 degrees Celsius). This kind of variation is brutal for the bees.
When it is warmer, they form a rather large, loose cluster over the bottom edge of their honey supply. As it gets colder, that cluster contracts smaller and tighter over a diminishing amount of supplies. They can starve to death if the cold spate lasts a while, because too many bees (who cannot shift) are concentrated too far from where the top edge of the cluster (and the fresh honey supply) used to be. This sort of challenge is what keeps beekeepers biting their nails as our increasingly shifty winters begin to fade.
Local Update
As for my girls, the henbit
(Lamium amplexicaule)
is out, the willow and maple pollen has started to come in, and the short courses around here will soon be opening their doors, despite all the snow you see above.
To recap, six hives and a nuc (nuclear colony) started the winter, and there are still still six hives today. I tried to winter the nuc as an experiment, one many beekeepers around here are doing, and have found it to be a fine way to provide cold-weather homes to white-footed deer mice.
As a last part of my personal report, I wanted to apologize for the quiet on this blog: I've been out with the bees and the beekeepers, and a little ashamed of some of my mistakes.
Spring Brings Newbees
There's a video (from Meerkat Media) embedded below as a flagrant attempt to reach out to newbees, because interest in beekeeping in my city is growing, with at least 8 hives going up on hotels, offices, roofs and back yards. I'll have new neighbors at the monastery, and new beeks to mentor.
Just for you curious ones who are wondering if it is possible too have bees on the streets where
you
live, I know beekeepers in Atlanta and Philadelphia and Baltimore and San Francisco and London who are all on their trajectories toward Spring. The video shows happy beekeepers working in Chicago and New York, as well as more traditional places.
Some renegade beekeepers in Manhattan, The
Gotham City Beekeepers,
have also asked me for a shout-out and you for your support as they attempt to come out of the shadows and contribute in the sunshine (like the bees).