This is no place – and I am no authority – to rule on matters of organized religion, but honeybees possess some kind of theological magnetism, and recent circumstances have me thinking in a saint-ly vein.
With two new colonies at our city's Franciscan monastery, it seemed churlish not to count blessings and offer thanks. Therefore, the colonies at the monastery have been named after my two benefactors, MaryEllen and Doug, and their queens will be named after appropriate saints.
Now, the question of "appropriate saints" got interesting
fast
. Honeybees have been with us longer than Christianity, and people have been quite grateful for them all along. Therefore, it appears that there are a bouquet of bee-oriented patron saints out there, each beloved of a certain nation. A quick look turned up(Saint/patronage/location):
St. Ambrose/honey and beekeeping/Italy
St. Alexios/bee keepers/Greece
St. Bartholomew/mead-making/Britain
St. Bernard of Clairvaux/bee keepers and candlemakers/France
St. Haralampi/healing properties of bees and honey/Bulgaria
St. Isidore of Seville/bees and hives were his emblem/Spain
St. Modomnock (or Domnock, or Dominic)/bees/Ireland
St. Sossima/beekeeping/Ukraine
St. Valentine/bee keepers/silly people
St. Urban/bee keepers/Hungary
There are almost certainly more buzzing saints. The strategy below, however, is how we are going to start playing the name game: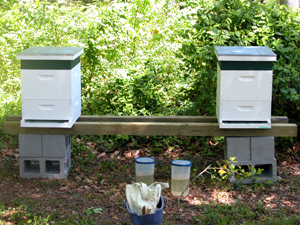 Of the two new colonies, MaryEllen is on the left, and Doug is slightly to her right. This is only right, if you know them. Please note the green woodland goodness that surrounds.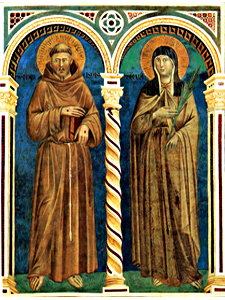 The queens of the Doug and MaryEllen hives will be Frances and Clare, respectively. It seems deeply right to name a queen after the patron saint of animals, and (for her part) Saint Clare was closely linked to Frances, and committed to a cloistered life of work and the ownership of no personal property. Very bee-like.
Other saints abound, unhonored, even so. There could be a Saint Joe (or two), a Saint Ann, and a Saint Ben as well, since so many volunteers with the Franciscan garden guild have made us feel so very welcome. Joe in particular faces a brilliant future as a beekeeper: he not only skips the gloves, he does not even want to wear a veil when he helps me. He also has a queen eye to beat the band!
In final note, it could not have tickled me more to learn that "St. Urban" was into bees as well. We city beekeepers can totally see it.