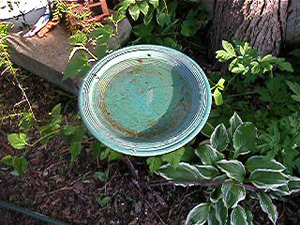 During week after week of idyllic Spring days, humans may exult, but bees are more practical. They seek out water, and they bring it home. Even so, it makes a bit of unexpected magic.
The force of their wing beats makes beautiful and fleeting ripples on the water's surface, a delightful surprise. Bees have to work hard to fly, and they look a bit like they are hanging from borrowed wings sometimes when they do.
If you click on the picture, you can download an 18 MB, one minute Quicktime movie of honeybees over the bird bath. At 11 and 28 seconds, and again right near the end, you can see ripples where no bee touched the water. Try to imagine jewel-like sunshine and a steadier camera hand, and maybe you can be there, too.