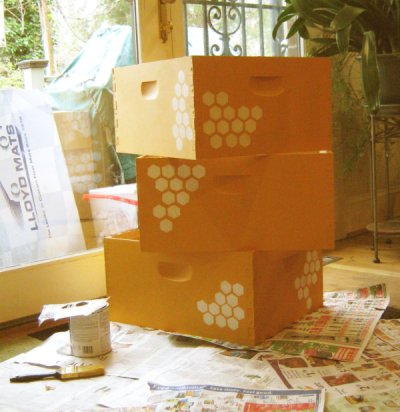 This is the second of two cold, rainy days in a row, and I must finally be catching up because this poor blog is getting some attention. You can see, in this picture, what Spring can bring when the only ways of working for the bees involve paint brushes, newspaper, and a fair amount of cursing.
This next note is probably only interesting to me, but over the past week or so this blog was visited by thousands of people, all of a sudden. That's because one of my friends, Charlie, is the beekeeper at the White House. But it is Spring for my bees, too, and it is time to stop being dazzled by the limelight and to get back to the sunshine of my own beeyard (once the Sun does come back again).
Basically, I've got a lot more apiaries to visit this year, though not the one at 1600 Pennsylvania Avenue NW (Charlie might have me over at some point, if some skilled free labor is ever necessary).
This Spring, I've come out as a beekeeper to the Office of the Mayor and to my City Council representative, figuring this is the year to make beekeeping more legally welcome in the city. In response, the District of Columbia has invited me to place hives in two Parks Department-run youth gardens, and USDA has opened some doors at the National Arboretum. Two other beekeepers will take one of the DC gardens, a mentee and one of the staff at the Arboretum will (tentatively) have bees there, and I will cover the other D.C. park. We'll be placing hives and giving presentations to Summer camps. This is
in addition
to the sessions at Colvin Run Mill, where I am planning to put two new hives from packages.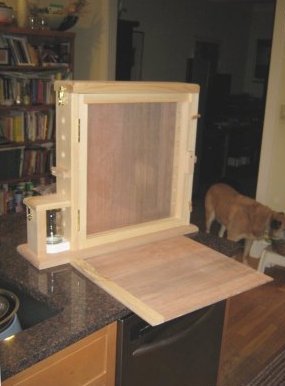 All of this means that there will be lots of summmer camps, at four locations, plus whatever comes up along the way. So I finally bought my own Observation Hive, this one from Betterbee.
I have borrowed many observation hives in my day, and think that
MaryEllen's Ulster hive
has been the best so far. I wish it could show more than one frame, however, and I am not really looking for a hive where the bees can live all season, so I decided to try this format. Most observation hives require you to slip a frame of bees into the equivalent of glass envelope, and most of the time some bees get squished. Inevitably, the smartest, nicest kid you present to points this out, too.This observation hive works more like a narrow glass closet, and shows two frames. Let's see how it goes. Right now I am cursing the fact that I have one more complicated thing to paint.
The hive bodies you see way above will house the nucs that will begin hives on the roof of the Fairmont Hotel here. Those girls are due on April 23rd.
I was going to get packages for the hotel, too, but my go-to-guy, Larry, ended up with a more successful nuc progam than predicted this Spring, and I thought they offered a better chance for early success, and a partial harvest, which seemed a big goal for the hotel. The chefs at the Fairmont (whom I will be teaching-by-doing) seem a little hesitant all of a sudden, but I am willing to take their bees and this cute-i-fied equipment if they bail out.
But let's hope they don't read this blog, right?
My bees have wintered well: I lost just the nuc which was an experiment. Six mature hives survived.It seems to be a trend here to try to winter nucs, and accomplished beekeepers do it, but I'm missing the point, I guess. And missing those lost bees.Three of my hives are monsters that need to be split, and there are three OK ones. I'm giving one split to Joe at the monastery, because he lost some girls this winter and he is a good beekeeper.
Everyone has their first supers on, there have been several hive operations this Spring, and I will post more details on a supporting page in a bit. With the order of three nucs and five packages to cover all this, I will have 10 hives in my own apiaries, two in a city park, and four being managed by mentees.
I believe I have lost my mind.
This is the year for urban beekeeping, though, and as fearful as I am of taking a public role, there has never been so much public support, interest from new beekeepers, emphasis on "greening" the city, and coverage in the press (even a sidebar on city beekeeping in Scientific American!) I might get shut down, at least downtown, but I have the chance to reach thousands of childrens (and their parents) before that happens, if it happens. My friends in the 'burbs will help me find a place to hide out, if necessary! Please keep my girls in your thoughts as we begin this new phase of adventure.
Please keep all of us, famous, shy, winged, walking, and looking forward to the Sun, in your thoughts as this important season arrives.