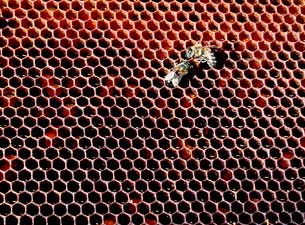 When some people arrive at this page via search engines, I can sometimes see the query which brought them here (sorry if that freaks anyone out). Lately, several poor souls have arrived here on the the heels of the search term, "bee death." I am sorry to welcome you, fellow beekeepers, to a woebegone club.
Today we investigated the death of the colony I keep, alongside one of my friend MaryEllen's, at a historic mill site. It's important to do this in order to determine whether a disease was present that could affect others; to learn what mistakes might have been made that could result in the death of other colonies managed in the same way; to decide whether any of the equipment or comb can be used again or rather should it be sanitized or discarded; to secure the site against possible robbing out by healthy bees; and to clean up the dead.
To see a more extensive explanation of what we found, you can look at
a bunch of photos and a narrative
on the sidebar at right. But here's the short version.
My bees froze to death. They need each other, in the thousands, during this cold, hard time of year in order that each individual flex her tiny muscles and contribute that warmth to the whole. When we popped the top, I expected to see thousands of dead bees, because I am seeing many many many dead bees at two other hives, and fear the worst there. I expected to see those thousands with their heads stuck into the bottoms of empty cells, starving because I failed to feed them enough, or ensure that their stores were close enough by — a mere 2 inches in the coldest weather.
However, what we found was a clean hive, with just a few dozen dead bees on the bottom board, and just a few hundred clustered around each other, not able to hold off the cold.
We looked for signs of disease, and some were there. There was an instance of chalk brood, but that is a disease of weakened colonies, not one that brings them to their knees. There was no AFB, but there were dead larvae in cells with no wings. There were thousands of dead mites on the bottom of the hive, and they were stuck like fleas to dogs on the poor last bees standing.
The picture here is not a good example of what the remnant cluster looks like — you can see better on the sidebar — but it does show the limit of what I could do for them. Those bees are on a frame full of nectar, and the last thing they saw on this Earth was each other.
Varroa mites seek a symbiotic relationship with the bees, but they kill their would-be partners with their vigor. And then they, too, die. It's hard for me not to think of humans and our demands on the planet, as well as the limits on what we can do for other creatures once balance is gone.
When confronting the death of these bees, I approached with too much of a sense of being at the center of responsibility and blame, because I never had that much control and power. Knowing what I do now about the mites, and about the almost sure death of the Mill bees, I think I should have considered other alternatives, including the use of pesticides. But those are blunt tools in clumsy hands, too, and such violently lively mites might best be escorted out of the picture at the cost of one colony of bees. But I will never know, or at least need much more time to learn, before I have the kind of wisdom that will tell what should live or die, and whether I should make it so.