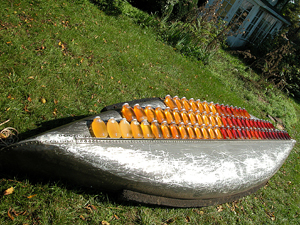 Larry from the beekeeping association ended up putting me in contact with a guy who farms more than 30 kinds of pumpkins, squash, melons, and ... bees! He needed a website for his seasonal business, so with one thing and another I ended up helping him set up satellite broadband and a wireless LAN, as well as a site. I need his permission before I can send you there, though.
But I though you would want to see this. David is also an artist, and when his honey started crystallizing (his market is not heated, and the nights are getting cold) he set it out on the bottom of his silver canoe to catch some rays. Because he has the soul of a poet, you can see how he laid out his crop.
David's bees are all of the same species, but within just a couple of miles of his home in the country you can see what variety of nectar the plants have to offer. To confess a bit, this honey is from a couple of different harvests, so there is a time difference as well as color variation.
Truth to tell, there is probably even more color range among the pumpkins and squash. I tell you, he has TWO kinds of drop-dead-beautiful
blue
pumpkins.