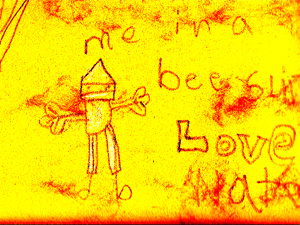 It seems absurd to say "thank you" because someone said "thank you," but my heart fills with gratitude every time I look at the piece of yellow construction paper that Nate's family mailed to me. Nate is (I think) one of the kids who listened to one of my Bee talks this summer, probably in July. And here we are, almost two months later, with an original bee-themed artwork, just for me!
You may not be able to see it so well (though there is a larger version linked to the image if you click on it), but Nate has drawn a picture of a tree with a beehive in it, flowers for the bees to pollinate, and himself in a bee suit. His message? "Thank you, bees!"
Folks, I'm thinking Nate's family gets a jar of honey. What do you think? Sweets from the sweet for the sweet.