Spring has continued its early arrival in these parts with an 85 degree F day, which I celebrated by pulling the sliding panels out from the screened bottom boards of the hives. This gives the honeybees additional ventilation, and I get to look at what's been falling through lately. They also don't care at all about this operation, and are not disrupted in the least.
I was supposed to do a mite count on Friday, but I forgot, so I just poked through the stuff on the panels in order to find pollen packs. These are the multicolored lumps that the bees pack onto the pollen baskets on their rear legs, and they give a good idea of what the bees have been up to. The picture above is maple pollen, deduced from blooming information at
www.pollen.com
and the knowledge that maple pollen is a lovely golden yellow. The bees get pollen all over their furry little selves, and they use their front and middle legs to comb it back, mix it with some nectar (to make it stick), and pack it on their back legs. That rounded shape is actually the largest arc that can be described by a bee arm: it's a more graceful shape than what we manage when we attempt to soap our own backs. The biggest pack here is about 2mm by 4mm, and things are looking a little greasy because of the oil on the bottom board. The pollen packs are also easy to squash, and have deformed a little.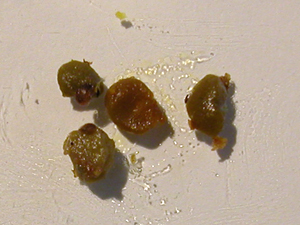 This olive drab stuff is willow pollen, apparently a far less desirable product, according to beekeepers. The bees seem to think it's OK. The Twain colony had a lot of maple on the bottom board, while Wilde had almost all of the willow. This may only mean that the Wilde girls filled up the cells with willow before working on maple, or it might mean nothing at all.
The pollen-bearing field bees actually fly into the hive, back into a cell, and scrape the stuff off themselves. They pack only one kind of pollen in a cell, apparently, just like they collect only one kind of plant material on any single flight. The pollen packs that fall down are probably the result of misses, miscalculations, or overfilling. This whole business is a lot different from the way they handle nectar. When delivering flower juice, field bees find a house bee, give the nectar to her, and then fly away again.
I've been messing with the bees too much lately, but it's a bit of a conundrum. There's a risk of swarming, which means I should be checking or intervening, but I've been fiddling too much, which may endanger the colony. So I am sitting tight, watching pollen, and planning a cursory visit tomorrow.
There may be other visitors this week, however! My north side neighbor told me that her roof will be replaced one day this week, and she would call when she knows which day – purportedly because the dogs might be barky as a result. From the way she introduced the topic, I suspect that
she knows!
But she is a good person, and it makes me sad not to share this with her. Nonetheless, this is a great time of year for such a project, because the bees are in a good mood and it is not impossible or terrible to block them in their hives for a day, especially if it's a bit cooler than today. If anything, I want to meet the contractor who can guarantee a complete roof replacement in one day!